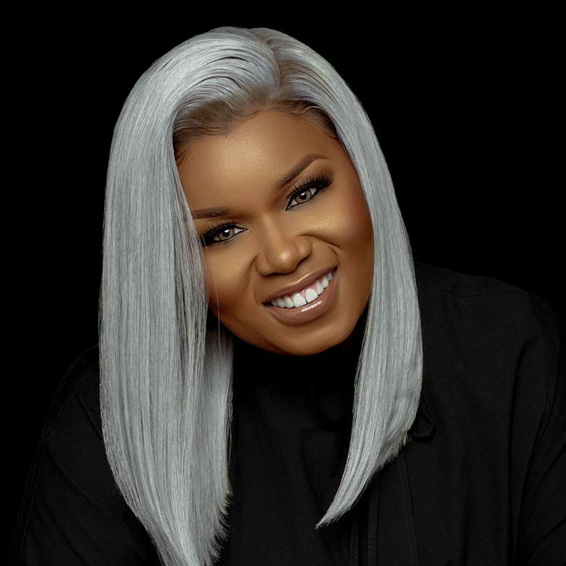 Banke Meshida Lawal
Founder, Banke Meshida Professional (BMPRO)
Founder, Banke Meshida Professional (BMPRO)
A professional makeup artist by default, Banke took fine art lessons from the age of eight after showing a keen interest in the arts. She studied English at the University of Lagos and Graduated with 2nd class honors in the year 2000. The first Bmpro Professional make up studio was formally opened in 2002 on Rumens road Ikoyi, Lagos State.
The makeup line BMPRO (Banke Meshida Professional) birthed in 2006 with 14 products in the line. It is the first Nigerian makeup line of color, a feat she achieved due to the inability of international brands to help create suitable makeup looks designed with the Nigerian culture and its peculiarities as the deciding factor. High pigment, staying power, hypoallergenic, fashion forward are a few words that describe these amazing Products formulated with the Nigerian weather at heart, and manufactured in highest standards of raw materials available in the cosmetics industry. BMPRO makeup is created to deliver optimum results for the professional and amateur makeup user especially in the Nigerian hot and humid weather, a quality most international makeup brands do not possess.
Today, BMPRO makeup has 65 products in the Nigerian market as well as distributors all over Nigeria, the UK, USA, Ghana and Canada. It's success is based on the acceptance of its quality all over the world. Manufacturing has also shifted to turkey- for the new innovations emerging form the Turkish beauty industry is phenomenal, Germany- due to the high level of hypoallergenic products available from the market Asia for the technological advanced beauty products available from that market, Asia- for the technologically advanced beauty products available as well as retaining the manufacturers in the United States.
A creative spirit, she creates looks for the runaway (MBGN, Miss Nigeria, Tiffany Amber, House of Marie, Odio Mimonet), Fashion lookbooks, Bridals (over 5000 brides and counting).
Editorial cover pages and fashion magazines (this day, Elan, Genevieve, the Sun, City people, Vanguard, Punch, Wow magazine)
More recently, the BMPRO covergirl editorials series started in 2016. It celebrates African women excelling on their various fields of endeavor, showcasing them in never before seen beauty looks. Some of the noted women are Simi, Funke Fowler- Imokhuede, Lola Omotayo Okoye, Huddaya, Toke Makinwa, Juliet Ibrahim, Dakore Egbuson-Akande amongst others. The BMPRO woman is a regular woman who wants to look extremely beautiful.
Her flawless signature style is easily recognized. Banke has won many accolades and awards for her contribution to the growth of the makeup industry in Nigeria. Many budding makeup artists look to her inspiration as well as professional training. BMPRO has a training school which continues to produce top notch makeup artists in Nigeria. Her mentorship programme is second to none often citing herself as an example of the success possible with hardwork, perseverance, passion and creativity. A few of the many awards she has won include
Female achiever of the year 2002 (city people awards)
Makeup artist of the year 2005 (city people awards)
Entrepreneur of the year 2008 (future awards)
Makeupbrandoftheyear2009(eloyawards)
Makeupartistoftheyear(weddingplannermagazine)
Contributor of the year (University of Lagos)
Makeup Artist is the year 2011 (fab magazine)
Best makeup Artist of the year 2012 (the Nigerian event awards)
Makeup artist of the year 2017 (appoemn awards).
Eatow Global Icon 2020
The bridal makeup industry has also blossomed due to her continuous creation of stunning and timeless looking brides. Her work is a Focal point for Nigerian Professional makeup artists who agree that it continues to inspire them to want to create the "BMPRO look" for their clients. She has been appointed governor of the makeup artist guild of Nigeria and she is also the current Vice Chair, Creative & Cuktural Sector Nigerian British Chamber of Commerce.
Bmpro has recently opened its newest retail store location at the upscale with its ultramodern industrial style flagship store in Dolphin estate Ikoyi, which houses a training school, Semi permanent Ombré eyebrow center, A Spa, nail room, photography studio (Molten studio Photography) as well as the makeup studio. More recently BMPRO has opened more branches in Lagos and Abuja respectively, bringing high quality makeup services and products closest to the discerning beauty enthusiast. She continues to be present personallyat these studios, often running a busy schedule as she divides her time between this and attending to clients and brides alike. She believes in the power of her to help give clients confidence in the BMPRO brand as their makeup needs are attended to as well as to personally deliver the wealth of experience she had garnered over the years.
She is married to Lanre Lawal, has 2 beautiful daughters, enjoys playing the violin and loves to travel the world.